[SNIS-621] Her Shocking Return A Tanned Barely Legal Pussy A Wide Open Special Suzu Takachiho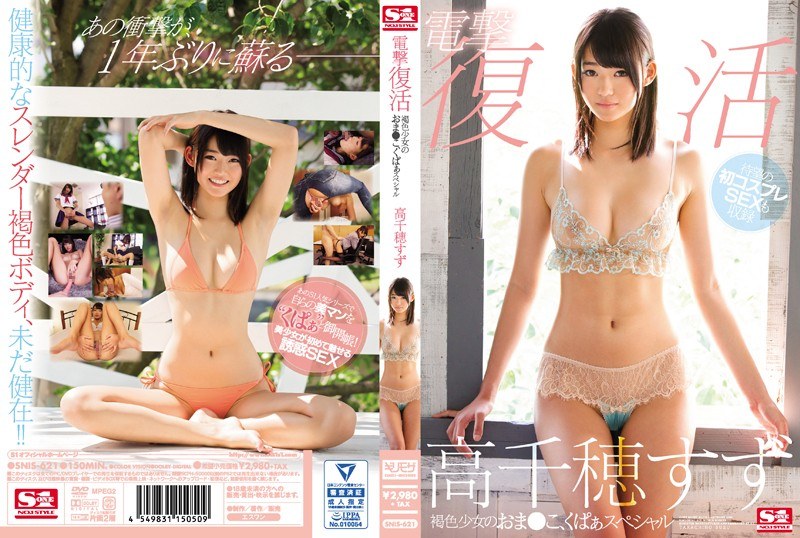 Online stream:
Movie Rating:
JAV on demand:
ID: SNIS-621
Release Date: 2017-03-19
Length: 150 min(s)
Director: Mon ℃
Maker: S1 NO.1 STYLE
Label: S1 NO.1 STYLE
1年の時を経て今蘇る奇跡のスレンダーボディ。誰もが見惚れたあの健康的な褐色ボディは未だ健在。S1人気シリーズ出演で、自らのおまんこを'くぱぁ'と何度も御開帳!恥ずかしそうな顔とは裏腹に2本の指で大陰唇を広げて誘惑する'すず'の姿にズッキュンする事間違いなし!JKやOLなど待望の初コスプレSEXも収録!お帰りなさい、また、君に逢えたんだね―。
Suzu Takachiho (高千穂すず) SNIS621 finally released and we get: Masturbation scene, one schoolgirl scene, one tight jeans scene which is great, full nude in bed scene, and OL scene.
This is new-old material, so Suzu looks exactly as in the previous releases: Japanese Goddess, tall brown impossibly slim sweety. In other words she looks great. I wouldnt rate this title as high as SNIS-583 or SNIS-563 but this is good material, and above the JAV's released nowadays.
I did like the Schoolgirl scene, the tight jeans scene is ok too, Suzu being 172 cm tall looks great in that skinny jeans, but otherwise the scene was meh. And finally we had a OL scene, which was ok.
All in all, this was no 6 stars JAV but it was good, and a nice gift from s1 studio.
DVD Title is available for sale at R18.com clicking here.
Suzu we miss you.
PS: Got an hd version already, uploaded up there.I keep the sd version =
PS2: Download link: SNIS-621
Related videos: