[AVOP-382] Crack Service: Maid With Shaved Pussy Special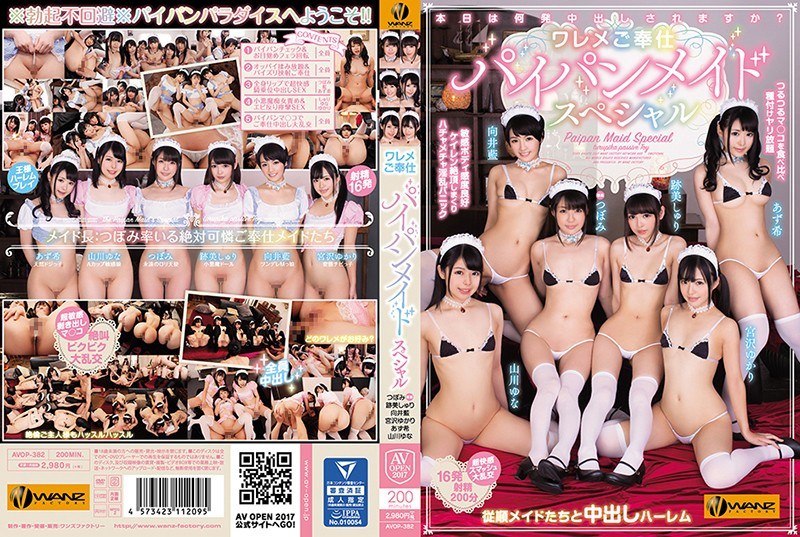 Movie Information
Tags:
AVOPEN 2017 Girl Dept
,
Creampie
,
Maid
,
Promiscuity
,
Shaved
,
Tits
Actress: Atomi Shuri, Azuki, Miyazawa Yukari, Mukai Ai, Tsubomi, Yamakawa Yuna
Studio Label: AVOP
Online stream:
Movie Rating:
JAV on demand:
DOWNLOAD – 1.3 GB
TORRENT – 1.9 GB
AVOP-382, i'm in heaven…
I knew this was one of the most promising AVOP titles of this year and not only didn't disappoint me. It blown by mind by much.
I am a huge fan of the WANZ maid series ( i.e.: WANZ-572) so this was meant to be good for me. But damn!.
So far this release is my favorite AVOP title of 2017, alongside AVOP-332, AVOP-381, and the awesome AVOP-378.
And i even think AVOP-382 will be in my overall top-10 list of best JAV of 2017. Let me say it again: AVOP-382 is so f*cking great. Everything works well in here. The costumes, The girls, the camera angles. Everything rolls perfectly in to making on the best JAV releases of this year.
On a minus, the digital mosaic censorship was horrible. But we cant blame WANZ studio for this. Because we have seen this bad-censorship trend in 2017 in many other studios (including SNIS). It's really shameful.
Also how good Tsubomi looks after 10+ years is incredible. How can this girl still be fit to appear in a loli JAV after 10 years?. Wow.
And to have Shuri Atomi, and Yamakawa Yuna and Mukai Ai. The cast is really really good. If only we had  Abe Mikako in here (which appeared previously in WANZ maid series) this title would be literally perfect.
This movie is 3:23:00, so is a long video, I posted a SD version. But i might consider post an HD version when becomes available.
I have also bought AVOP-382 on video on demand at R18. And i recommend you guys do it too clicking here. Enjoy.
AVOP-382 Photo gallery
Related videos: