[KAWD-815] A Maid Getting You Erect then Rubbing to Bring You to a Massive Climax Yura Sakura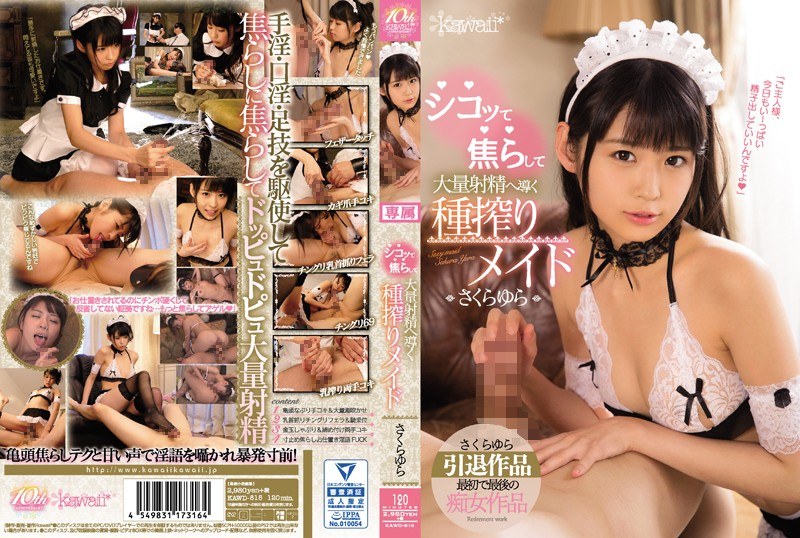 Online stream:
Movie Rating:
Buy this JAV and more on:
Now KAWD-815 is the JAV I was waiting for the most for the last month and released today June 3rd. Kawaii studio consistently produces the best Maid JAV in all the industry, this is clear (perhaps KV, knights visual and WANZ come close). But when you mix a super-hottie like Yura Sakura with a studio that knows how to produce amazing maid JAV, there you have a recipe for success.
Yura Sakura is slim/loli type kind of actress. No boobs and short stature, but she is a great performer with a perfect 10 body. Her short hair would normally be a huge turn-off for me, but she looks good with this type of hair because she has not so broad shoulders. And to cope it all a perfect 1o body. Not a lot of girls have a perfect 10 body, only a few can come to mind. Perhaps just Tsujimoto An.
The last scene is left me breathless and astonished. The body of this girl is just perfect. There is trash talking. She gets involved in the action and goes down to do POV blowjob. Plus the handjob technique is also great. And the best part was still to come: an out of this world cowgirl position.
5 Stars JAV all around, and one of the best JAV i have witness in all 2017. I have a few more Sakura Yura videos. And i will be posting more in the future, looking how this release impressed me. Or you can check my complete KAWD collection. That i will also be expanding very soon.
Related videos: