Ex-gravure idol and celeb Miu Nakamura to debut on TEK-092
Miu Nakamura announced her return + JAV debut with Muteki studio, coming up this June 1, 2017. She is ranking number 1 in Amazon these past days, for the most wanted DVD. She was known for being a gothic-pop singer and former Gravure idol.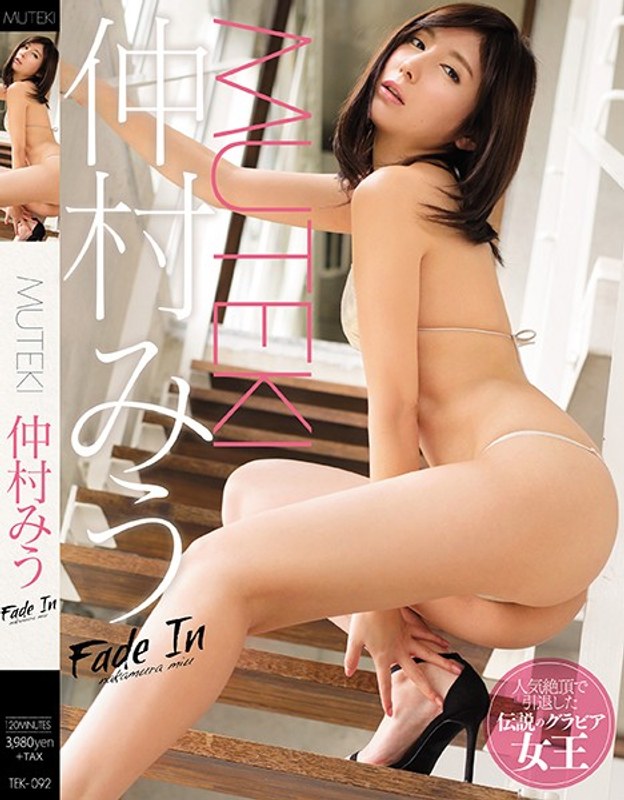 Miu Nakamura Biography
After leaving middle school and not joining high school she decided to pursue a modelling career. At the age of 14 , her first gravure DVD "Fairy", was released on 2005. She did look like a typical innocent-looking girl with provocative swimsuits, gaining notoriety among Gravure fans.
In 2006 she won the "Miss Young Magazine". After winning the title, she was quoted as saying that she would show her naughtier side from then on. However, by 2007 she disappeared for several months in a kind of strange way, which affected her career.
Since returning, she has focused more on music, acting, and voice-acting as well as modeling. Her career as a singer is now beginning to be genuinely successful, her album Stand My Ground with its gothic rather than pop overtones selling well in Asia even outside Japan.
On February 25, 2012, she announced on her Twitter her full retirement from the showbiz and deleted her Twitter account plus her official blog. Some months later in September 2012, she revealed that she is now married and have a baby. Which explains why she retired in the first place, as the chose to pursue a happy private life.
2017 Miu Nakamura (仲村みう) returns
Now it's 2017, she is 26 years old, and she announces her debut well past her prime to try to, clearly for economic reasons. It very much resembles what Yumekawa Ema did this year as well in TEK-089. Her debut would have been beyond fantastic at 2012
Why Nuteki releases are fun
Muteki studio specializes in celebrities making JAV debuts. Usually ex-gravure idols, actresses, pop-singers and such. Mostly 2nd and 3rd tier celebrities to be honest. But is fun if you know the celebrity.
More info
Japanese Synopsis: 全国の皆様お待たせしました!人気絶頂で引退した伝説のグラビア女王【仲村みう】が満を持してMUTEKIデビュー!イメージビデオ、写真集もトップセールスを記録し、今なお復活を求める声が多い彼女が遂に期待にこたえてくれました!スレンダー極上ボディのヌードの先の秘部解禁!ディープキス、クンニ、生フェラ!それ以上のスケベなことやっちゃってます!感度良好SSS級グラビアアイドルの一本限定出演の永久保存版!!
Miu Nakamura profile on: http://asianwiki.com/Miu_Nakamura
Miu blog is still deleted, will post her video later on.