[SNIS-905] JK Walk Suzu Takachiho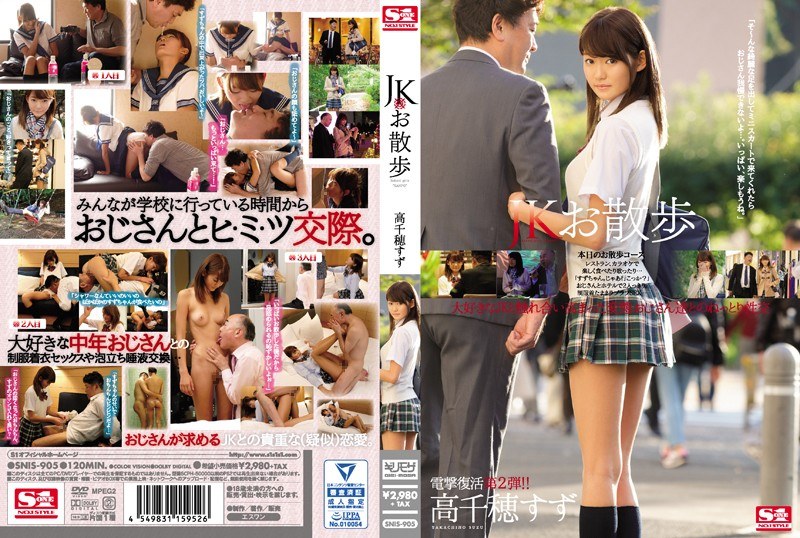 Online stream:
Movie Rating:
So finally, i got my hands on SNIS-905. I can confirm the material is new and not a repackage of old-new material. However, sadly, this is another so-so release with nothing interesting other than one of the most hot JAV actress of this decade: Suzu Takachiho, but yet another failed opportunity.
SNIS 905: Analysis of a mediocre JAV with a goddess actress
First scene: Suzu in sailor uniform with a older pervert guy, she looking amazing and extremely hot. However this scene did trigger me: the old dude spit on Suzu mouth, preposterous!. After that, some role-playing, she puts a rubber on the old dude and they have sex, nothing special. The final pop in the mouth was nice though.
Second scene: This is the JK (schoolgirl) scene. With another old dude, (yeah, this JAV is about old dudes, sadly IMO). Again nothing special, sailor uniform and sex in a room. The guy pops rather fast, probably because he never fucked a girl so hot as Suzu.
Third scene: Bokki Sugihara scene…., the old dude we all love to hate. Another bedroom scene, some funny bits. Bokki acting himself as the pervert old dude. Suzu acting herself, as the slim shy hottie. The blowjob part was good, probably the best of this dvd. Then they have sex on the bed, Suzu being clothes and fully shaved looks good here.
Veredict
Hardly a 6/10 release, come on SNIS!, we need more and better!. This girl has the best body we seen in the JAV industry in years. Far better than any girl awarded at the 2017 DMM awards, she just need to do something interesting.
Suzu Takachiho is still the perfect 10/10 girl that delighted us, i hardly can think of other active perfect 10 Jav girls other than An Tsujimoto and a very few others. But Suzu Takachiho will be past her prime soon is she releases so few, and boring titles.
PS: Check more Suzu videos here.
Related videos: