September 2018 diggest and gossips
September was a month with so many movements in the JAV industry, you guys can read some down below. We will not have AVOP this September either, but things point out we will have it in the future (pray to god).
Girl of the month this September was Suzuki Koharu. And we had a lot of gems from her, she's pretty hot. Next October we will have another very pretty girl with Aoi Tsukasa, and that's a great thing too.
Believe it or not, I have been working in a new Hentai section, which will be fully subbed to English. The whole thing is still in an early beta stage and still needs plenty of work. As a newb Hentai poster, I quickly realized a couple things:
For Hentai anything less than 720p looks like pixel poop.
Some Hentai truly sucks balls, man… Having some trouble to filter which hentai is good and which is bad. The lack of a code system also kills me inside.
On the good side, some Hentai stories are really hilarious and visually beautiful, and that gives me (much) hope. I believe it can work out and my idea is to make a streaming hentai section, fully subbed in 1080.
Other than that, all is good. Uploadgig is pretty stable now and I recommend it as a download solution. Because it's faster, cheaper and allows to download more than Filejoker. I will still maintain both of them tho.
SOME OF MY FAVORITE JAV'S FROM SEPTEMBER =
Among others.
SUBBED JAVS =
GOSSIP AND NEWS N STUFF
A new RION meltdown happened yet again. I wrote about it here.
S1 15th grand anniversary is looming. S1 style1 studio will celebrate their 15 anniversary in JAV  soon. They have promised several special videos to commemorate, which will be released during a period spanning several months…(3, I think).  Everything points out that they will do some special crossovers and possibly a big harem video.
Such big Harem video by S1 was planned to have originally 15 girls to celebrate their 15 years. However, it seems one of the girls dropped and it will finally be a 14-girl special.
Hoshina Ai had a twitter meltdown because of an argument with her IRL Japanese blonde boyfriend (or partner of some kind). She also revealed her BF has STD's and she doesn't have STDs, (The whole thing just made me lold, feeling sorry for her tho).
Suzuki Koharu had yet another Twitter meltdown. Her new twitter account got deleted as well again.
Both Kizaki Jessica and Ootsuki Hibiki are celebrating their 10 years in JAV anniversary.
Asakura Yuu (麻倉憂) confirms her retirement.
Arihana Moe (有花もえ) confirmed her retirement 2 days ago.
Saijou Ruri (西條るり) reappeared via Instagram, here.
Tsujimoto An retirement reasons got revealed via twitter: she is getting married. She also revealed a lot of another funny sh*t in a rather comical Twitter meltdown.
Former news presenter and anchor Shiori Usui, who had appeared on the TBS Tohoku Broadcasting channel debuts in Gravure.
Yuumi Shion is going to debut for S1. Meet the new teeny RION(?)…lol.
Kirara Asuka self-tagged herself as "not doing AV now". Where it's a retirement or not, it's quite confusing.
Mitake Suzu is filming AV again and will return soon.
Ruri Tachibana and other AV idols have been caught selling sex in Hong Kong, even confirmed with clean pictures of their faces by Hong Kong media outlets. Ruri's was asking 20K HKD for 90 minutes.
Riina Aizawa (逢沢りいな), is a gravure model who will debut soon in JAV. Possibly keeping her gravure name unchanged and I love that.
Nanami Shirose (白瀬 ななみ) graduated from SOD and then deleted her twitter account. Kind of unexpectedly.
Masami Ichikawa (市川まさみ) was selected to captain Ebisu Muscat. However, she caught a scare when a crazy fan on Twitter threaten her with violence (more specifically to himself) at a fan meeting event. The fan actually showed up at such event with a knife on himself and gathered enough attention to get himself arrested by police.
Suzumura Airi might be retiring soon too.
Kaname Otori is reportedly working at a brothel now, seems she is pretty broke too…
And a huge bomb:
Saika Kawakita (河北彩花). The current number 1 AV actress in both sales and popularity (DMM Rankings) might have already unceremoniously retired. She was a very shy type of girl and didn't want to partake in any of the promo events of any kind. Which confirms she probably joined porn for a quick buck and wasn't comfortable with anything of it. So she might have pulled a Suzu Takachiho as she did meet the minimum of 6 videos (or was it 4?) and might already be quitting. (This is still, pretty unconfirmed, but confirms a disastrous summer for S1.)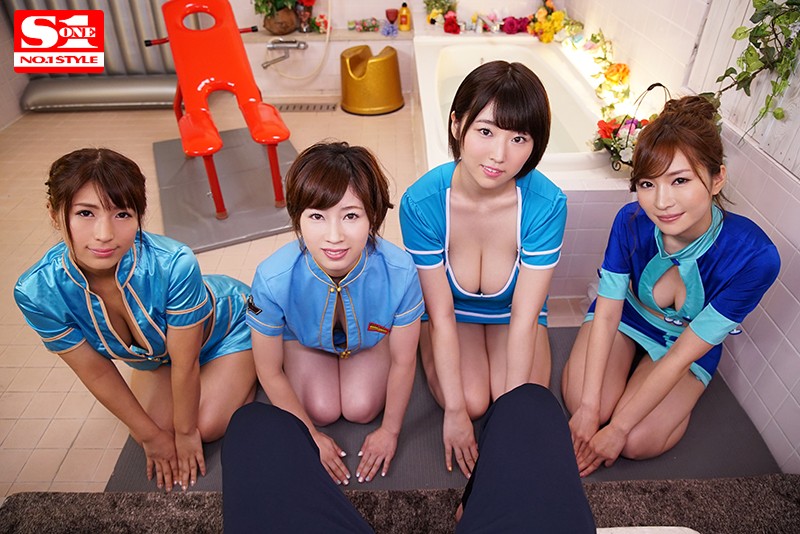 SSNI-333 preview image. One of the S1 specials to come. Actresses: Saki, Nami, Nanami M., and Aoi.