[MIRD-180] Private Gag Reflex University Hospital The Science Of Semen Vacuum Extraction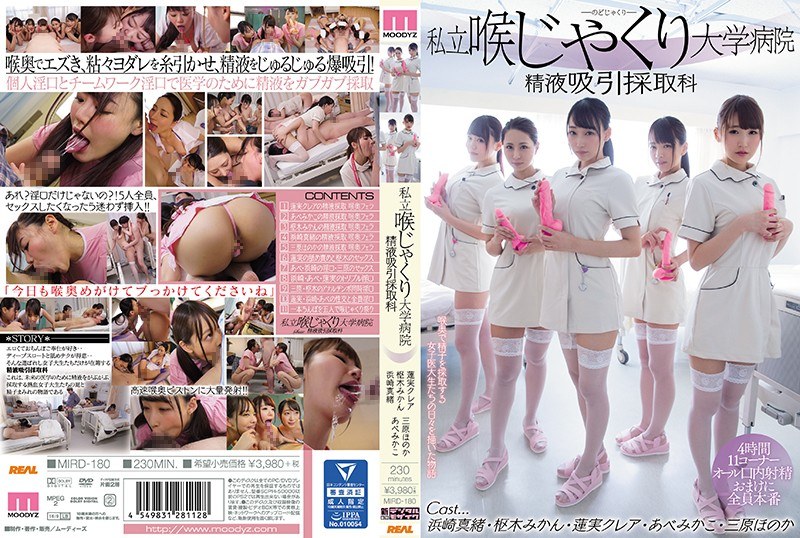 Stop! MIRD time!
What do this 5 girls have in common?. Extremely skilled at slurping semen and blowing dicks. They all do it do it very well. Believe do me. I mean, Hamasaki Mao is in there, a well-proven semen-demon who can drink sperm by liters.
Having these 5 girls together is very special:
Kururugi Mikan. A 7-year veteran with a crazy long tongue-shaped in V.
Abe Mikako. She learned from Uehara Ai how to drink sperm. Nuff said.
Hamasaki Mao. Our gokkun queen, she has done 700+ JAV movies.
Hasumi Kurea. 6-year veteran. Funny and quirky, I quite like her.
Mihara Honoka. I always remember her DASD-380, vomiting over some dude. Good times.
The cast is really good. The story depicts five female college students who collect sperm, with her throats. Their deep throat and licking technique are extremely good. Look at Abe Mikako gobbling on some tiny dick, putting it 100% on her mouth with force. Love it.
The release was great, and easily one of the best from June. And this is why I love MOODYZ. They do something very special here putting these 5 girls together for a very special release that we will remember for a very long time.