[STAR-888] Suzu Honjo Thanks To All Of You AV Debut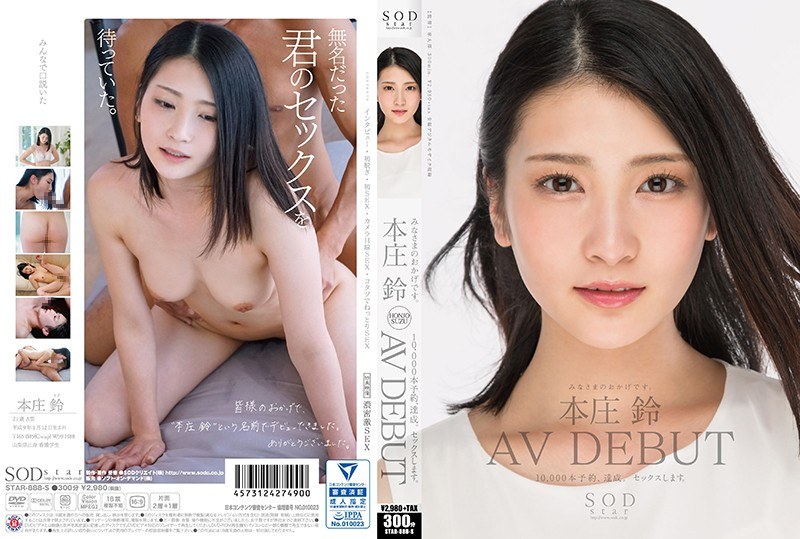 STAR-888 Suzu Honjo JAV debut is here, my good lads
Name: Suzu Honjo
Japanese name: 本庄鈴
Age: 21, born 1997-01-12
Height: 165
Measures: 85-62-88
Twitter: http://twitter.com/honjosuzu
Insta: https://www.instagram.com/honjo_suzu/
So, long story short. SOD star studio issued a challenge in which they promised to make this girl debut in porn if she could achieve 10000 online reservations. Not long after that number was met and here we are.
If anyone is wondering. 10K sales in JAV is a respectable number. Best-sellers monthly in JAV might be around that number.
The production in itself is truly awesome. I love how SOD ships Suzu Honjo. A freaking 5-hour debut-production!!!!. Fug. The level of effort is awesome, and they deal with Suzu, like if she was miss universe or Japanese royalty, lol damn.
The level of effort of this JAV is unheard of:
They hired the currently best male JAV actors in  Japan for this flick.
A Bluray edition has been made for this.
A special first edition has been made too.
Suzu Honjo has held promotional events in Japan.
5-hour debut. (First time ever?)
They don't even touch her until 1 hour of the movie has passed.
No effort was spared.
Now, reading what the Japanese fans are saying about her. The general consensus is that this girl is really beautiful. She really caters Japanese standards. She has a gentle and delicate beauty that will suit best the Asian fans.
Although my initial reaction was to not understand what was the big fuss about. My take is that she is really beautiful as well. She looks a little (or a lot) like Yoshitaka Nene. She is, in my eyes, a solid 9, and borderline perfect 10. Pretty and delicate.
In STAR-888 itself, I don't even think the 888 was random, probably it was picked because of it being the lucky number, they even altered the STAR- releases timeline. In STAR-888 itself, there is a long-ass interview in the beginning, and afterward, her sex scenes are what I expected for a debut, average, so no surprise there, there are 4 scenes:
The first scene with Ken Shimizu.
The second with Taku Yoshimura.
The third scene with Masahiro Tabuchi.
The last scene with Genjin.
The action is just one on one sex-scenes, kind of tamed. Blowjobs, but not much more. I wish to see more of her, to be honest. I still think the Shoko Takahashi debut was more important than this debut, but nevertheless, I enjoyed this flick and it will be one of the most important releases of 2018. I will repost it in Full HD when I can. Or it can be purchased here.
Suzu Honjo debuts, big fuss JAV edition