[SSNI-077] Super high temptation aesthetic men's salon Mikami Yua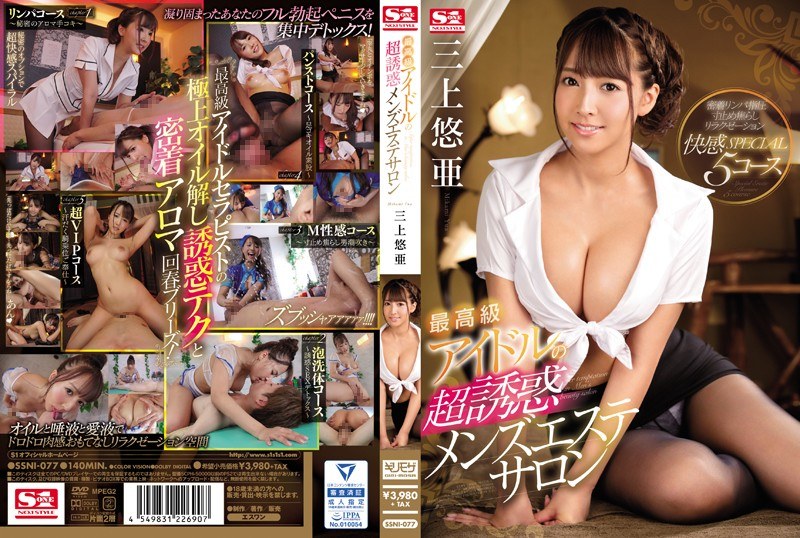 Online stream:
Movie Rating:
Buy SSNI-077 in 1080p here:
The national Idol is back
This is it. Freakin' SSNI-077 is the best release we had this December. And the last minute addition to the best JAV's of 2017.
Mikami Yua is also (for me) the best JAV actress of 2017, by a large landslide. She even can fap a dick like a queen, with a big smile (minute 18). God gracious almighty, is she good or what!.
The white maid costume fits her perfectly (minute 24), while she gives a massage to a dude. Then Mikami has sex with a lame as f*ck dude (minute 41), nevertheless, with such perfect body, I almost don't mind.
It gets followed by a Pantyhose POV scene (minute 1:16:00), which is good but should be watched in HD to be truly enjoyed, in SD it doesn't work that good.
And then hell broke loose, when at minute 1:23:00, Mikami Yua appears with a blue tight attire that made me spit my morning breakfast. My body wasn't ready. GOOD GOD!.
She even introduces herself to the dude using her name at 1:23:50. Mikami Yua desu… I can only imagine what that male actor was thinking right then. Then at 1:44:00 and 1:45:00 the dude screams like a pork being slaughtered, it was one of the funniest scenes I ever watched. Yua almost can't hold herself from laughing. So awesome!.
There's another scene by the end, but my body couldn't take it anymore. 😀 😀 😀
This website officially yields to Yua Mikami. Our new queen.
Yua forever.
SNIS-077 JAV gallery
Related videos: